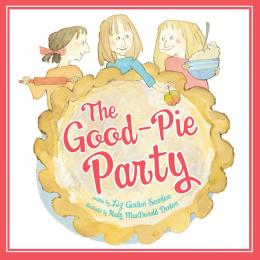 Read an excerpt
Awards
Commended, Best Books for Kids and Teens, Canadian Children's Book Centre, 2014
The Good-Pie Party
Scholastic Inc | ISBN 9780545448703 Hardcover
32 Pages | 9.38" x 9.3" | Ages 4 to 8
A combination as sweet as spiced apples in a buttery crust: Caldecott Honor-winning author Liz Garton Scanlon and New York Times bestselling illustrator Kady MacDonald Denton!
Posy, Megan, and Mae have always been the best of friends - but now Posy has to move away. Only their favourite activity can comfort the girls: baking pie! And when they realize they can host a good-pie party instead of a good-bye party, the sad situation becomes a sweet gathering for their entire community.
The Good-Pie Party celebrates good friends, good memories, and the joy of just-right good-byes.
Raves & reviews:
Praise for The Good-Pie Party:
"Scanlon's gentle, child's-eye view of a common challenge hits the right notes . . . A must for every child who has to move away and for teachers and parents who want to help children through these times." -Kirkus
"A story that celebrates the bond of friendship while acknowledging the reality of transition." -Publishers Weekly
"This sweet, tender read is a good addition for those looking for books about moving." -School Library Journal
"Libraries may have dozens of picture books on moving, but few acknowledge the child's experience with such creativity and compassion" -Booklist
" In The Good-Pie Party, author, Liz Garton Scanlon, and illustrator, Kady MacDonald Denton, deftly recount the true-to-life bundle of emotion that comes with transition; from the sadness and anger of loss, to the celebration of lasting friendship. Better yet, they recount it with real girls inreal communities, depicting real people on every page...The Good-Pie Party is a book that gives voice to the messy emotions of complex, real people in the face of inevitable change." -National Reading Campaign
"The pen-and-ink and watercolor drawings, soft in palette but with sharp angles and lines, illustrate the shifts in Posy's mood. This sweet, tender read is a good addition for those looking for books about moving." -School Library Journal
"Precisely worded and nicely cadenced, the text reads aloud well...Denton's illustrations-ink drawings with watercolor washes-portray characters as distinct individuals who are as expressive as dancers in their movements and gestures." -Booklist