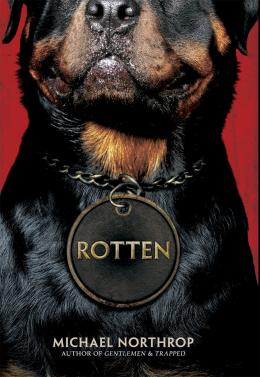 Rotten
Scholastic Inc | ISBN 9780545495875 Hardcover
256 Pages | 5.83" x 8.54" | Ages 12 & Up
A gripping tale of a troubled teenager and a rescued Rottweiler, from critically acclaimed author Michael Northrop.
J.D. is back in town after spending the summer "upstate." No one believes his cover story about visiting his aunt, and it's pretty clear that he has something to hide. It's also pretty clear that his mom made a new friend while he was away — a rescued Rottweiler that J.D. immediately renames Jonny Rotten (yes, after that guy in the Sex Pistols). Both tough but damaged, J.D. and Jonny Rotten slowly begin to trust each other. But when the Rottweiler bites Miles, one of J.D.'s so-called friends, J.D.'s world turns upside down and the secrets he has tried so hard to keep under wraps start to unravel.
A riveting tale of heroism, loyalty, and second chances, this gripping novel will strike a deep, lasting chord with underdogs of all shapes and sizes.
Raves & reviews:
Praise for Trapped
"Compelling... Michael Northrop deftly describes teens who are tested by the endless snow." —USA Today
"A gripping disaster story... Northrop's solid storytelling should keep readers rapt." —Publishers Weekly
"An edge-of-your-seat experience... Just as he did in Gentlemen, Northrop gets at the core of human nature through masterful pacing." —Kirkus