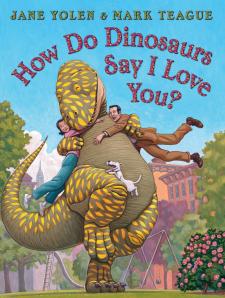 How Do Dinosaurs Say I Love You?
Scholastic Inc. | ISBN 9780545143141 | Hardcover | 40 Pages | Ages 0-4 | 9" x 12"
America's favorite dinosaurs are giving families a funny book, perfect for bedtime, storytime, anytime. Even when little dinosaurs are naughty, it's important to remind them that no matter what they do, they are always loved. In this book, readers will laugh aloud as parents cope with the typical antics of childhood, but in the end, hugs and kisses show your little one how much you care.
From How Do Dinosaurs Say I Love You? Text copyright © 2009 by Jane Yolen. Illustrations copyright © by 2007 Mark Teague. All rights reserved.